Contact Number




0115 920 3960

Contact Email



Electrical Supplies & Wholesalers in Mansfield
Mansfield (FCC) Electrical Wholesaler Branch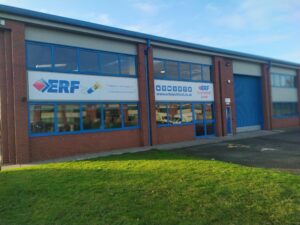 Unit 1-2, Hallam Way
Old Mill Industrial Estate
Mansfield Woodhouse,
NG19 9BG
Tel: 01623 631200
Email: sales.mansfield@erfelectrical.co.uk
Opening Times:
7.30am to 5.30pm Monday to Thursday.
7.30am to 5pm on Friday.
Business Manager: Dave Haywood

Our ERF branch in Mansfield used to be known as FCC Electrical. For years FCC served it's electrical trade customers until ERF bought the company. To this day, we continue to work with customers of FCC and ERF to ensure that we are the go to electrical supplies wholesaler in Mansfield. This branch has very large stores to accomodate greater stock levels and all our Essentials products are in stock at all branches, at all times.
---

"Whether you know us as FCC or ERF Mansfield, we are here to help and have a whole team who are knowledgeable and most of all friendly. The legacy of the FCC business is a brilliant foundation for ERF and we will continue to nurture it as time goes on.
Business Manager, Dave Haywood
---
★★★★★
FCC has a great local reputation and we are proud to be the go to electrical wholesaler for so many electricians and contractors in the area.
---
Talk to the Mansfield team. Complete the form below and one of the team will get back to you as soon as possible.